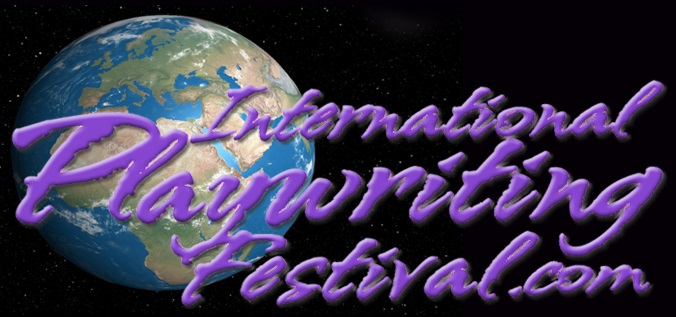 Background & IPF 86 - 02 IPF 03 IPF 04 IPF 05 IPF 06 IPF 07 IPF 08/9
IPF 10 IPF 11 IPF 12 IPF 13 IPF14 IPF15 IPF18 Warehouse Phoenix home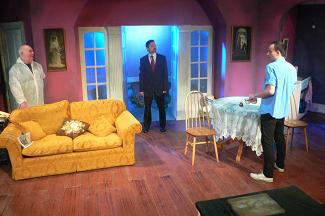 Sat 24 & Sun 25 November 2007
600 Plays from more that 15 countries across the world
were submitted to the International Playwriting Festival 2007
- the following plays were showcased:
The three official selections:
BARRICADING EDEN by Brierley Thorpe (UK)
set in an East End allotment, an entertaioning and
well characterised treatment of current issues.
CLOCKED by Neil J Flynn (Ireland)
an intriguing and unconventional play in a very conventional setting.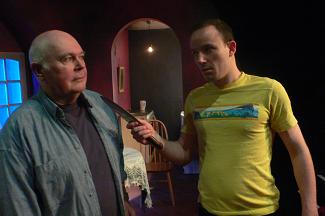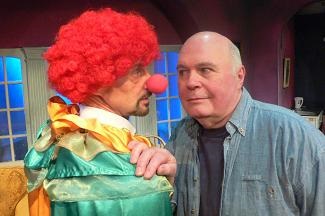 Images from the production of CLOCKED at the Warehouse Theatre in May 2008
directed by Ted Craig with Robert Austin, Lee Colley & Jonathan Oliver (design & photographs by Graham Constable)
GOOD PEOPLE by Carolyn Burns (Australia)
very topical, funny and serious, takes place in America
and concerns the impact of a son returning from Iraq to his family.
Short snapshots of plays admired by the judges were also shown:
THE ISLAND OF NO TOMORROWS by Mary Fengar Gail (USA)
An extraordinary world is brilliantly realised in this epic and very moving play.
OUIJA! by Stephen Jackson (UK)
A dark farce about death, magic, superstition, fear and trousers.
THE JACARANDA TREE by Alex Broun (Australia)
A sensitely written play with very believable characters and a surprising ending.
Contributions also came from the Warehouse Theatre's international partners,
Extra Candoni from Italy:
CANTO PER FALLUJAH (Aprendo Le Porte dell'Inferno) by Francesco Niccolini
A conversation (of sorts) between an American soldier,
marooned in a house one night in Fallujah when the other soldiers in his platoon
have been ambushed and killed, and an educated English-speaking Iraqi woman, an archeologist.
Theatro Ena from Cyprus:
GOLGIA by Maria Marmara
This powerful play is set in the aftermath of the 1974 war in Cyprus,
and is centered around the life of Golgia, a young woman
who is found in the middle of a personal and political dillema.
The BRIT School
DOWN THE NAG'S HEAD by William Wood
In this exploration of British drinking , four actors take on the diverse characters
found in a typical pub.
Warehouse Writers' Workshop
THE NATIVITY by Paul Sayer
A very funny take on the famous story.
DON'T CRY DOCTOR MITCHELL by Sara Pascoe
A surreal variation of a familiar situation.
BABY JAY'S BEDROOM by Janice Okoh
A crisply written piece of urban legend.