2010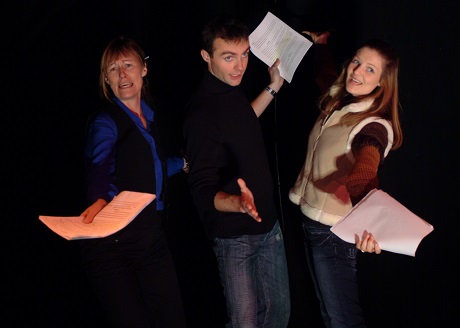 Saturday 6 & Sunday 7 March 2010
493 plays were submitted for the 2010 competition
and the judges had a difficult time making the selections:
TARBABY by Roy Chatfield (Andover)
This fascinating play tells the true story of highly acclaimed
American photographer Lee Miller who began her career in Paris
along such Surrealist artists as Man Ray and Picasso
DA by Edwin Preece (St Albans)
This compelling modern day Romeo and Juliet drama takes place in Ireland
where two brothers are out to revenge their Da's murder.
GRACE AND RESIDUE by C G Watkins (Melbourne, Australia)
In this intriguing play, four strangers living in the same block
are assembled in a recently deceased woman's apartment. They have never met her
but curiously their neighbour has left all her property to them...
LAST NIGHT by Ruari Peoples (Falkirk, Scotland)

A highly accomplished and hilarious first play
about a group of friends and relatives before and after a funeral.
IPF

also presents work from its European partners,
Italy's Premio Candoni (but not, unfortunately, this year)
and Greek playwriting from Nicosia based Theatro Ena.
And selected work from the Warehouse Writers' Workshop,
and the work of emerging young talent from the BRIT School.
PROGRAMME
Sat 6 March 5pm

Writers' Workshop:
MOTHER 2.0 by Abigail Jackson

Writers' Workshop:
THE TRUNK by Mike Carter

IPF Selection:
TARBABY by Roy Chatfield

Supper Break

Sat 6 March 7.30pm

Theatro Ena:
A BAR CALLED LOST PARADISE
by Evridiki Pericleous-Papadopoulou
translated by Yiola Kleitou, music by Mikis Zissiou

IPF Selection:
DA by Edwin Preece
Sun 7 March 5pm

Writers' Workshop:
LEMONS by Jude Bird

BRIT School:
THE DREAM COLLIDER by Pearl Chandra

IPF Selection:
GRACE AND RESIDUE by C G Watkins

Supper Break

Sun 7 March 7.30pm

Theatro Ena:
WE THREE by Paul Stewart

IPF Selection:
LAST NIGHT by Ruari Peoples